Clicca QUI per la versione in italiano.
SUPPORT FREE-SOFTWARE!
Clicca QUI per la versione in italiano.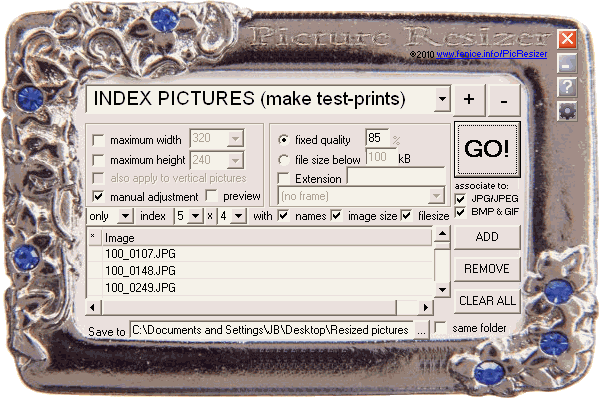 If you enjoyed

PICRESIZER ,
please consider making a donation.
PICRESIZER IS AND WILL REMAIN FREE FOR EVERYONE: you don't have to pay a dime to get it.
However, a spontaneous donation to the author would be highly welcomed -
for only the users' support may keep more free software being developped.
With a small donation, you can download the nag-free version of the program:
no more "www.fenice.info/PicResizer" watermark on the picture-indexes (test-prints)
no more homepage call at the closing of the program
you'll also get the complete collection of 61 frames in high resolution
(means you can have your photos printed without the frames looking grumpy)
Become a free-software supporter NOW!
TRY ALSO:
MP3MOULDER

(convert from/to/between MP3 + equalize the average loudness)
WINSIEVE


(multi-browser cache extractor + find duplicate files + leech pics from documents..)