"A destined time does exist. That time, is the present time.
Now is the right time to organize the slanting point.
A point is required: a fruitfly won't succeed in massacring a cleptosaur."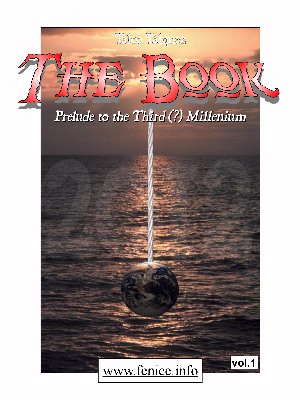 [ORDER IT NOW!] [DOWNLOAD THE COVER (626k)]
The planet you live on is hanging from a thread.
Somebody has stopped the Evolution
and you're suffering the consequences of it.
The future is not written
but it takes to take the trouble of reading the present.
If you're nothing but an intelligent animal,
then a dog is just a vegetable with legs.
..and still, when pushed off the cliff,
even those who don't believe in the Law of Gravity
FALL DOWN anyway.
This Book won't change your life.
All you're gonna do after having read it, will.
READ-ON TO KNOW MORE
(THE SUMMARIES OF EACH VOLUME and the FIRST CHAPTER)
DOWNLOADS
(PREVIEW, OVERVIEW OF THE WHOLE WORK, BROCHURE, ETC.)

THE TRILOGY OF THE 21ST CENTURY!
IN PART ONE.. (disponibile anche in italiano)
273 pages, €3.39 (ultra-discount offer!)
ORDER IT NOW!
Wandering objects, hallucinations, impossible shared dreams and more paranormal phoenomena draw the attention of Angelo and Alessio, former class-mates at highschool, to a mysterious super-natural presence bound to change the course of their lives forever.
Maybe it was already meant to be, and for centuries. Maybe there's more at stake: possibly the fate of the whole mankind.
Along with Valeria and Alessandro, their friends but also something more than that, they get mediumisticly in touch with a strange kind of "spiritual guide" that seems to be reaching out from the future – but communication isn't easy.
Not even among the four youngsters, whose existences seem to be entwined or better entangled by too many secrets.. and this adventure "to the twilight zone" will maybe turn out to be an unexpected occasion to bring all the chickens back to the roost and sort things up for good.
IN PART TWO.. (già disponibile in italiano)
(COMING SOON, AROUND DECEMBER 2010)

Things get furthermore complicated: someone is going to put a spoke in the wheels of our "paranormal visitor", by hammering away at Angelo and seeding mayhem inside the group. We're no longer safe: the enemy is shadowing us everywhere we go – and to first-hand realize we're risking our skin won't be a cold shower, but a scalding experience.
What does Alessandro have to hide? Is Angelo's story with Cleo really over forever?
Dreams and signs burgeon, each one of us experiences temporal lapses followed by unexplainable losses of memory, even old friends turn their back on us..
"A destined time does exist. That time, is the present time."
And you? Are you ready, for the countdown separating us from the inevitable final battle?

IN PART THREE.. (già disponibile in italiano)
(COMING SOON, AROUND DECEMBER 2010)

Maybe it really was already meant to be even before they were born. Maybe Gino was right, and Alessio truly is more than he looks to be. And maybe the long awaited Time of Great Revelations has finally come: "only survivors shall see" – far beyond understanding the dreams and the other pending puzzle pieces so far.
Maybe, after millions of years, Mankind is finally ready to be given the answer to their most ancient queries: who are we? were do we come from? where are we going to? why do we live? what's the true nature of the world, concealed from our eyes? who concealed it? how? and why? where does the whole evolutionary line of the living beings lead to? and what is Love? what's it for? how does it work?
MAYBE.
And it's all up to you.

To learn more, DOWNLOAD THE PREVIEW (27 pages, PDF) [NOT COMPLETELY TRANSLATED YET]
To recommend me a publisher that might be interested in my book (Print-On-Demand sites also), click here!