Clicca qui per la versione in italiano.

MP3 MOULDER v1.5
Makes you triple the capacity of your portable MP3 player
..and don't blast your ears off anymore, with songs at different-loudness!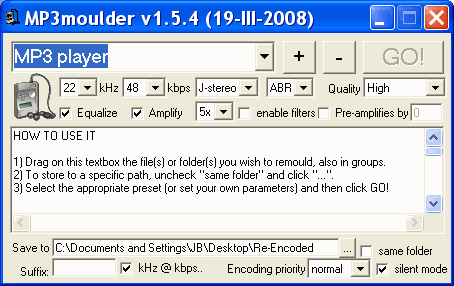 Convert to MP3 WAV OGG MPC FLAC APE WV PAC AMR DTS MP4 AAC M4A AC3 and VOB
Re-encode MP3 to a different bitrate* (no recompression!**)
Amplify*** (and/or pre-amplify) your MP3s
Equalize*** the average loudness of your MP3s
Keeps ID3 tags (v1 and v2) and folder-structure
Extracts WAVs (also from OGG, MPC, FLAC, APE, WV, PAC, AMR, DTS, MP4, AAC, M4A, AC3 and VOB audio-substreams)
Customizable (create and save your favourite presets)
Drag'n'drop (just drag on the to-do list the files/folders to convert)
Context-menu (=right-click on a MP3/WAV/OGG/MPC/FLAC/APE/WV/PAC/AMR/DTS/MP4/AAC/M4A/AC3/VOB or a folder)
Language packs (to translate the program)
No installation required and takes less than 52k! (plus the codecs)

* and/or another sampling frequency and/or number of audio-channels and/or type of encoding (CBR, VBR, ABR)
** the direct framerate conversion guarantess an almost null loss of quality
*** without re-encoding, therefore: absolutely no loss of quality!

Ever wished to fit more stuff on your portable MP3 player? (Maybe not at the quality of an hi-fi, but certainly better than that of a radio.)

Got tired, to always have to re-adjust the player's loudness each time a new song starts? (And get sore ears if you're not quick enough..)

Can't take any more, of whispered DivXs that require you to boost the TV-loudness to the max? (Then you switch to another channel and..)

With MP3 Moulder, moulding MP3s is just a few clicks away!

It's easy and intuitive to use, and bedides (as you can see in the picture) instructions are included within the program. Furthermore, it's enough to fly over a command to get a quick tooltip-info about its usage.

What are you still waiting for? Download MP3 ReEncoder! (1.8MB .EXE)

..and if you wish to translate it to another language, just edit the included language-pack ("_UK.TXT") - and I might publish it here! :-)

PS: if the program doesn't start, update your computer with the Visual Basic 5 run-times (MSVBVM50.DLL is enough)
---
Here's how much you can save off your MP3s*, depending on the chosen preset:
PRESET
kHz
kbps
CHANNELS
BITRATE
% of MP3*
% of WAV
MP3 player
22

48

Joint stereo

Average

37%

3.40%

MP3 player hi-fi
44

80

Joint stereo

Average

46%

5.23%

Mono (eg: voice)
24

32

Mono

Average

24%

2.13%

Mono hi-fi
48

48

Mono

Average

35%

3.15%

Minimum quality
16

8

Mono

Average

6%

0.57%

Standard quality
44

128

Joint stereo

Constant

100%

9.00%

Good quality
44

192

Stereo

Variable

152%

13.78%

Almost lossless
48

320

Dual-stereo

Constant

250%

22.68%
* compared to a standard MP3 (44kHz 128kbps joint-stereo)

This for instance means that, using the default "MP3 player" preset, you can downsize the WAV extracted from a CD by 96.6%. And if you had already recorded that track to a standard MP3, you can knock it down to about 1/3rd. (If you used a higher quality, you'll save lots more!)

Also, supposing you wished to send a "sneak preview" to somebody via email, "Mono (eg: voice)" will reduce the weight of the attachment to less than 1/20th of the WAV (1/5th of the standard MP3). And if you don't care if the audio gets so clippy it sucks, go for the "Minimum quality" preset - and see it chopped down to an amazing 1/17th of the standard MP3!
---