Clicca QUI per la versione in italiano.

PICRESIZER
Clicca QUI per la versione in italiano.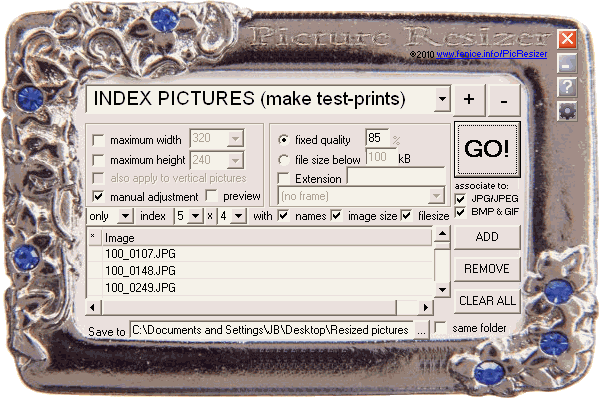 Resize any image (JPG/GIF/BMP)

to an exact width and height (also auto-adjusts to vertical photos!)
proportionally (fixed with, variable height - or viceversa)
visually, by stretching/shrinking their margins!
using the presets:

Mount your photos within 61 built-in fancy frames. (Or import your own frames.)
Create test-prints. (Up to 8x8 images on a single photo.)
Convert from BMP and GIF to JPG.
Choose the quality of the JPGs or auto-calculate the best quality to fit your JPGs in N kilobytes.
Integrates with Windows shell. (Right click on any image to resize it.)
Conveniently add images to process by drag'n'drop.
Customize the presets or create your own.
Built-in (and customizable) help.
TRY ALSO: MP3MOULDER

(convert from/to/between MP3 + equalize the average loudness)
WINSIEVE


(multi-browser cache extractor + detect duplicate files + extract images from documents etc.)
---
Let everybody know about PicResizer! Here's the HTML to paste in your site or blog:


..
(Also ..)
---
SUPPORT FREE-SOFTWARE!
If you enjoyed PicResizer,
please consider making a donation.
(You'll also get a nag-free version of the program, plus some goodies.)